Manx Rugby 'could be destroyed' by RFU funding cuts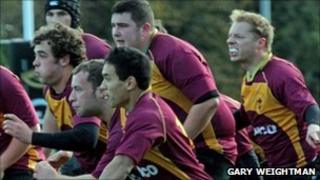 Manx Rugby "could be destroyed" by RFU funding cuts, according to one of the island's leading rugby clubs.
Rugby union representatives say funding for players to travel to competitions in the United Kingdom may be withdrawn.
Noel O'Connor, Vagabonds chairman, said: "These cuts will be the death knell for an important part of the Manx community and would destroy the game."
The RFU said travel costs for "off Island clubs" were unsustainable and had to be cut to £210,000 a year.
Extreme financial pressure
Three Isle of Man clubs, Vagabonds, Douglas and Ramsey, compete in the South Lancashire/Cheshire league and have been funded by the RFU for the last 10 years.
But in January 2011, the RFU presented the clubs with two options in order to re-coup costs: one Manx team could represent the Island, which would cut travel costs significantly, or the three clubs pay all of their travel costs, which could amount to £100,000 a year.
The clubs have rejected both options, saying they would "kill off" the Manx game and put extreme financial pressure on individuals and the clubs.
"It's absolutely crazy. We're not all millionaires. We're happy to make savings and pay our way - but we need more time to plan for that." said Mr O'Connor.
'Fester and die'
"We've fought for years to get funding to help us compete at a higher level and to develop grassroots rugby. To now turn around and pull out and say it's a commercial decision is ridiculous," he added.
An RFU spokesperson said its aim was to make funding "fair and equitable for all our 1,900 clubs" but that no final decision had been made on Isle of Man clubs.
Dave Christian, Manx Radio's rugby correspondent, said off-island competition was vital for local teams.
He said: "It is very difficult with the small number of clubs on the Isle of Man to get regular competition. Without the competition in the United Kingdom the game will fester and die.
The RFU Council will discuss the future of the three Manx clubs at a meeting at Twickenham on 15 April.