Mark Cavendish to get freedom of borough of Douglas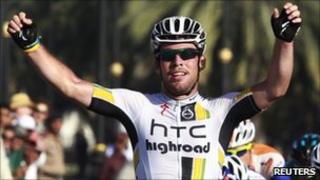 Cyclist Mark Cavendish is to be formally presented with the freedom of his home borough of Douglas.
He was given the award in 2008 but the ceremony had been put on hold as the council had been trying for two years to arrange a date but without success.
He will receive the award from the mayor on 14 April at Douglas Town Hall.
The Manx-born star is one of the world's fastest cyclists and will join Sir Winston Churchill, Norman Wisdom and the Bee Gees on the roll of honour.
'Especially fitting'
The council said the award was in recognition of the sprint star's outstanding achievements in his field and his service as an ambassador for the island.
He was given the award after winning a then unprecedented four stages in the Tour de France in 2008.
This year he has won the final stage in the Tour of Oman.
Council leader David Christian JP said: "The council is pleased to have the opportunity to present Mark Cavendish with his illuminated address and officially bestow on him the Honorary Freeman of the Borough.
"It is especially fitting that the presentation to such a world-class Manx sporting personality should be taking place in the year when all eyes will be on the Isle of Man - and on Douglas in particular - when the Commonwealth Youth Games are held here in September."