Isle of Man post workers meet to discuss pay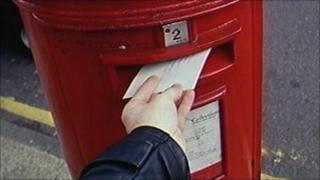 Manx postal workers are meeting to discuss their next move in a long-running battle over pay.
The Communication Workers Union (CWU), which represents 250 workers, is seeking a pay rise for members despite a pay freeze across the public sector.
It said 84% of its members voted in favour of industrial action in a secret ballot earlier this month.
Post Office Chairman Alan Crowe has said the Post Office will not budge on the public sector pay freeze.
He has, however, welcomed a letter from the union, saying it remains open to further talks.
CWU members account for just over half of the workforce at Isle of Man Post Office.
The post office said contingency arrangements to ensure minimal disruption to services would be put in place should strike action go ahead.