Bill to stop anonymous donations to Manx candidates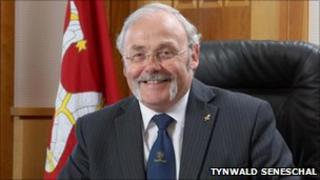 A new bill to stop potential candidates receiving anonymous donations during the Isle of Man elections is being moved through the House of Keys.
The Representation of the People (Amendment) Bill had its first reading in the House of Keys on 5 April.
The new law would force candidates to declare all donations above £50.
Chief Minister Tony Brown said the move was an important step towards improving transparency and governance of the election process.
Limits spending
He added however that, "the scope of the proposed bill may be somewhat narrower than had originally been hoped".
The bill also limits campaign spending to a maximum of £2,000, plus 50p for each voter in the constituency.
"The matter of transparency and fairness within the House of Keys election process was first raised during the Douglas East by-election held in May 2010," Mr Brown said.
"For the first time in my memory, a public debate emerged about the source of election funding which discussed the apparent limitation of the legal framework in terms of transparency of donations and expenditure incurred by candidates themselves or on their behalf."