TT3D documentary 'Closer to the Edge' to premiere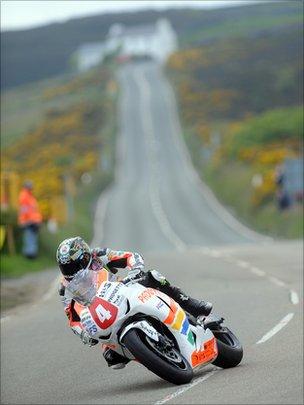 A documentary about the Isle of Man TT races, produced by a Manx film company, is set to premiere in London.
'TT3D Closer to the Edge', vividly recounts last year's event through the eyes of the riders, as they battle to become 'King of the Mountain'.
Former BBC commentator and life-long TT fan Murray Walker will host the premiere at the Vue cinema, Westfield shopping centre on Thursday 14 April.
He said: "The film captures the history, the drama, the humour and most of all the humanity of a unique event."
"Watching this film for me was a very moving and humbling experience", added Walker.
A host of TT riders are expected at the premiere, including the charismatic star of the show, Guy Martin; last year's five-time winner Ian Hutchinson and local hero Conor Cummins.
In 2010, Cummins became the fastest Manx rider in the history of the event, finished on the podium twice and suffered a high-speed crash on the Mountain, so he is better placed than most to understand the highs and lows of the Isle of Man event.
"It was certainly an interesting year for me in 2010, but it was an amazing year for Hutchy. What he achieved was incredible. I'm really looking forward to seeing the film and it has got to be a good thing for both the Isle of Man and the TT races."
Hutchinson said: "I do my talking on the bike and last year was something very special. I'm really looking forward to seeing the film on the big screen. I'm sure Guy [Martin] will steal the show."
Lincolnshire rider Martin is the main focus of the movie, which sees the ambitious driver push himself to the limit in his pursuit of his first TT title.
The film is narrated by Hollywood star Jared Leto and explores why modern TT riders risk their lives to win one of the world's most dangerous races.
The film's producer, Steve Christian from CinemaNX, said: "We believe that the film is an excellent showcase for both the Isle of Man and the TT races and will significantly raise the profile of both worldwide."
The film will be first shown in the Isle of Man at the the Villa Broadway Cinema from 18 April. It goes on general UK release on 22 April.
Related Internet Links
The BBC is not responsible for the content of external sites.