Island breast cancer action group opposes health plans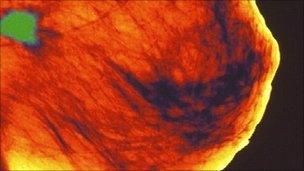 An action group in the Isle of Man is opposing government plans to change local breast cancer services.
The department of health proposes to replace a specialised breast surgeon with a general surgeon who has an interest in breast cancer.
The action group is planning to circulate an island-wide petition to generate local support.
Group member Jane Seppings said: "I was absolutely horrified when I heard of the health department plans."
She added: "I had experience of a general surgeon at the beginning of my treatment - he did the very best he could but unfortunately he wasn't trained as he should have been.
"To replace the island's breast consultant with a general surgeon, we'll be going backwards and with the figures as they are, it's a ridiculous thing."
The number of people developing breast cancer in the Isle of Man is rising every year.
Between April 2008 and March 2009 there were 64 new cases compared with 90 new cases between April 2010 and March 2011.
Health Minister David Anderson said that although these figures seemed worrying, they were to be expected after improvements in NHS breast screening programmes.
The breast cancer action group is due to meet with Mr Anderson, who says the appointment of a new general surgeon will enhance the service because there will be more dedicated breast cancer sessions available.
Related Internet Links
The BBC is not responsible for the content of external sites.