Saving the Queen's Pier would 'revive' Ramsey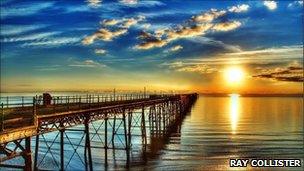 Restoring the Queen's Pier in Ramsey would encourage revival in the north of the island, according to the vice chairman for Friends of the Pier.
Michael Tramontana said if the pier was preserved it would act as a catalyst for other development.
In the April sitting of Tynwald, Phil Gawne will ask for £1.7m to stabilise the structure.
Mr Tramontana said: "The government should listen to the Manx people and protect this incredible structure."
He added: "The action of pulling the pier down would show a lack of responsibility from the government."
Friends of the Queen's Pier are dedicated to the restoration, refurbishment and reopening of the landmark, which was built in 1886.
Safety work last took place on the pier in 2008 to address problems with loose railings, lampposts and unsecured steps.
Related Internet Links
The BBC is not responsible for the content of external sites.