'Leaky buses' hit Isle of Man timetables, Tynwald told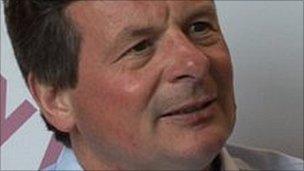 Some double decker buses on the Isle of Man fleet cannot be used when it rains, a minister has told Tynwald.
The revelation was made by Community, Culture and Leisure Minister David Cretney on Tuesday in response to a question about late running buses.
Some vehicles leak, making journeys uncomfortable for passengers, and others have experienced faulty electrics caused by rain.
Eight new replacement buses are to be brought into service in June.
Douglas North MHK Bill Henderson had asked Mr Cretney why there were "buses turning up late or not at all for various destinations" around the island, but predominantly Douglas.
He replied: "We have a fleet of double decker buses which fail when it rains.
"It's as simple as that - there are problems with buses when it rains.
"What happens is, if that coincides with a peak of delivery of school children in particular, then the priority switches so that the children can be safely taken from their schools to their homes."
Related Internet Links
The BBC is not responsible for the content of external sites.