Isle of Man approves £1.7m to improve safety of pier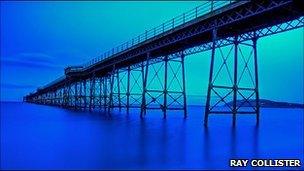 A move to improve the safety of the Queen's Pier in Ramsey has been approved by Tynwald.
Infrastructure Minister Phil Gawne applied for £1.7m to stabilise the Victorian structure.
The move met with opposition from some Tynwald members who felt the money should be spent on front-line services in health and education instead.
Mr Gawne said: "The suggestion the money should be spent on doctors and nurses is a cheap line to trot out."
He added: "If this safety work isn't done then ultimately somebody would have to be responsible and that somebody is probably me.
"Quite frankly, I don't fancy a six month imprisonment or £20,000 fine for failing to make this structure safe."
Despite this initial funding the future of the pier is still in doubt as no funds have been allocated to restore it.
Friends of the Queen's Pier in Ramsey say restoration would encourage revival in the north of the Isle of Man.
The Pier was originally built in 1886 at a cost of about £45,000.
Related Internet Links
The BBC is not responsible for the content of external sites.