Isle of Man should aspire to independence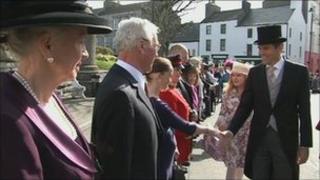 A campaign group has said the Isle of Man should aspire to be independent, as the island's 29th governor takes up his new role.
Former UK diplomat Adam Wood was sworn in as lieutenant governor at a ceremony at Castle Rushen on 7 April.
He was the first governor to be selected by the people of the Isle of Man.
But campaign group the Celtic League argues the role of governor sends the wrong message about the Isle of Man.
Bernard Moffatt, of the Celtic League, said: "In the longer term, the island should aspire to become a democracy.
"Governor in this day and age? It is a ghastly title and it sends the wrong signal about what sort of community we are."
When he was sworn in, Mr Wood said he wanted to "support the island's continued progress in constitutional development".