Isle of Man's PokerStars denies US allegations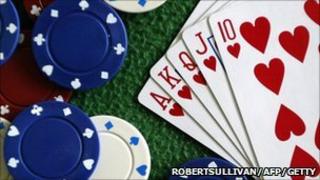 An Isle of Man-based poker website has "categorically denied" allegations of wrongdoing in the US.
PokerStars is one of three gaming sites facing legal action in New York.
The firms are facing a civil complaint and 11 individuals are accused of bank fraud, wire fraud, money laundering, and illegal gambling offences, the US Attorney's Office said.
PokerStars' status within the Isle of Man remains unchanged, the Gambling Supervision Commission (GSC) said.
In a statement, PokerStars said: "The company categorically denies the allegations brought by the US Department of Justice on 15 April 2011 and is taking all steps necessary to robustly defend itself, and the two named individuals.
"Meanwhile, the company has stopped offering real money poker services in the United States."
Returning funds
PokerStars said it was operating as usual outside the US.
The company said it was returning US players' funds as "a top priority".
It added that all players' deposits were "completely safe" as they were kept separate from company assets.
The GSC said: "The commission is aware of documentation issued by authorities in the USA which makes allegations against PokerStars and some of its personnel.
"While we are discussing the matter on an ongoing basis with PokerStars and watching developments, we can confirm that PokerStars' licensing status in the Isle of Man remains unchanged.
"We are aware that PokerStars have suspended the availability of cash-play games in the USA and we are currently endeavouring to ensure that any player who wishes to withdraw money from their account can do so."