Breast charities to help recruit new Manx surgeon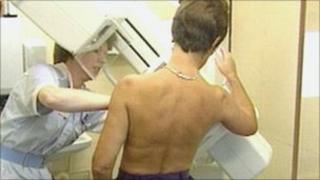 A representative of Manx breast cancer charities will be on the interview panel for the island's new consultant surgeon, the government has said.
The Department of Health plans to replace a breast cancer specialist with a general surgeon, with a particular interest in the disease.
The decision has sparked protest among some islanders who say the specialist, a locum, should be retained.
The department said patients would have a voice in the interview process.
Health minister David Anderson said: "Securing the future of the island's breast care service is a high priority, and our plan to recruit a permanent consultant surgeon with a special primary interest in breast care is testament to this.
'Refer cases'
"I again wish to emphasise that this appointment will provide complete continuity of service and does not represent any form of downgrade in the level of care provided on-island.
"Noble's Hospital will continue to work closely with the specialist Linda McCartney Centre in Liverpool, and as now, the department will continue to refer cases to the centre where required."
Mr Anderson said the department's approach mirrored that of district general hospitals in England which were the same size as Noble's Hospital.
He added: "The recruitment of a permanent surgeon will also allow us to increase cover for the on-call emergency surgery rota at Noble's Hospital, currently shared between three surgeons, which is deemed onerous by the Royal College of Surgeons and the British Medical Association."