Early Manx basking shark spotted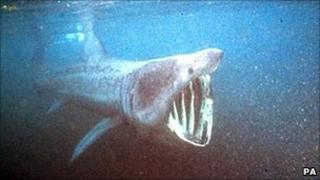 The first basking shark of the season has been spotted off the Manx coast, according to a conservation group.
The shark was seen about 1km from the shore near Niarbyl, by Tom Felce from Manx Whale and Dolphin Watch.
Details of the sighting, which was on 17 March, have just been released by the Manx Basking Shark Watch group.
Sightings do not usually begin until May but the warm weather is likely to have attracted the shark to the surface, said a spokesperson.
The sharks, which are harmless and feed off plankton, are usually spotted from mid-May to mid-August on the south and south eastern shores of the island.
'Not surprising'
They are protected from being hunted or harassed in the Isle of Man and in many parts of the world.
"We don't normally get them until the middle of May but this early sighting is not that surprising given the warm, almost hot, settled weather that we have been having," said the spokesperson.
"The basking sharks will feed where the plankton is and if the sea is flat and the sun is out this encourages the plankton and therefore the sharks to the surface."
Basking sharks are the second largest fish in the world and their arrival in Manx waters often attracts both tourists and film crews from all over the globe.