Astronaut posts Isle of Man space view from shuttle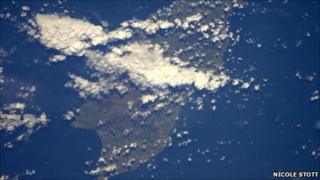 US Astronaut Nicole Stott has shared a unique view of the Isle of Man from her collection of photographs from the last voyage of the space shuttle Discovery.
Posting the picture on Twitter, the Nasa engineer told her followers she had "got lucky with a clear day".
It was taken during her time on board Discovery during its 39th and final mission, which was completed in March.
Mrs Stott, from Florida, is married to the island's Manx-born space ambassador Chris Stott.
The astronaut, who has worked for Nasa since 1988, has more than 46,000 followers on the social networking website.
She was among six crew members on board the Discovery's final mission after its 27-year space career.
The orbiter landed at the Kennedy Space Center in Florida on 9 March after a 12-day mission to the International Space Station (ISS).
On its final flight, Discovery delivered a new store room and a sophisticated humanoid robot to the ISS.
The shuttle's crew also performed two spacewalks to carry out maintenance tasks on the exterior of the platform.
Discovery is now destined to go to a museum.