Unite angry over Manx railway redundancies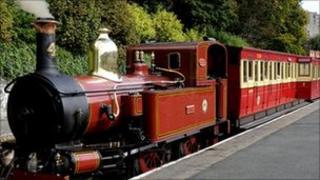 Union officials have reacted angrily to The Isle of Man's leisure department making five staff members redundant immediately.
Two blacksmiths, two painter/signwriters and a joiner were informed of the decision earlier.
But Steve Salter of the union Unite called the decision "diabolical", adding it was horrendous that people had lost their jobs.
A total of 230 people work in the department's transport division.
David Cretney, Minister for Community, Culture and Leisure, said on Wednesday his department was trying hard to minimise the number of redundancies on the island's railways.
It was announced in March that up to 22 posts would go as the Leisure department tried to find savings of £800,000.
Mr Salter said: "Five of the skilled workforce is still a horrendous number of staff to go.
"The department should have spoken to us last May when they knew there was a problem, what has happened today is diabolical."
Mr Cretney said his department regrets making anyone redundant and insists it tried to save four of the five posts by changing working agreements.