Isle of Man railway redundancies done 'by the book'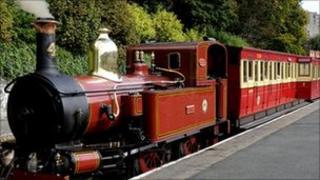 The recent Isle of Man railway redundancies were dealt with correctly, according to chief minister Tony Brown.
Five people from the division are to lose their jobs as part of the Manx government cutbacks.
Community, Culture and Leisure Minister David Cretney has been criticised for not giving those affected long enough to find alternative jobs.
But in the House of Keys on Tuesday, Mr Brown said Mr Cretney had followed government procedure "by the book".
He added: "The Council of Ministers should continue to explore all possible avenues to avoid compulsory redundancies within government and explore options to retrain any affected staff."
Amid calls for the government to review its policy on redundancies, the chief minister said he would look into the matter.
Twenty-two redundancies were originally planned by the Department of Community, Culture and Leisure but the number fell after voluntary redundancies and redeployment.
Mr Brown stressed that the job cuts, which will come into force on 28 July, had only affected five people out of a workforce of 8,000.