Isle of Man: Six beaches fail guide's standards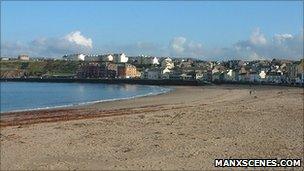 Two Manx beaches failed to reach Good Beach Guide standards because of sewage discharge, according to the government.
Environment manager Dr Phil Styles said untreated effluent from Peel and Laxey has affected the water quality.
Six Manx beaches in total were failed in the annual research by the Marine Conservation Society (MCS).
Mr Styles said: "The main reason Peel and Laxey would fail is because of the sewage discharge."
He added: "But there are other reasons for failure in different parts of the island, including run off from seagull faeces, urban streets, farmland - these all contribute to failures but not in such a massive way."
Jurby, Port Grenaugh, Gansey and Port Lewaigue have also been given the thumbs down in the 2011 Good Beach Guide, despite a Manx government survey in 2010 which classed water samples from 19 Manx beaches as "excellent".
Eleven Manx beaches including Douglas and Port Erin received a basic pass with Derbyhaven receiving a recommended status.
A spokesman from the MCS said failed areas present a potential health hazard for beachgoers.
He added: "Visitors may face unacceptable levels of bacteria and viruses in the sea water which is a real cause for concern".
Mr Styles said the solution was a sewage treatment system similar to the one in the south and east of the island.
Tynwald recently approved about £40m for the first stage of sewage improvements in the Isle of Man.
This will eventually bring new sewage treatment plants to Glen Mona, Dalby, Maughold Village, Port Lewaigue, Glen Maye and Corony.
Related Internet Links
The BBC is not responsible for the content of external sites.