'More trust' between Isle of Man and United Kingdom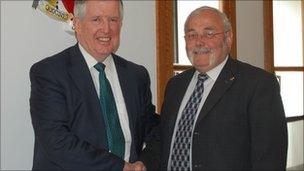 There will be "more trust" between the Isle of Man and the United Kingdom government, according to the minister of state at the Ministry of Justice.
Lord McNally has been visiting the Isle of Man for the first time since his appointment last year.
He said it was taking too long for the UK to process Manx legislation.
He added: "It is important we have a more mature relationship and trust Isle of Man ministerial judgement rather than thinking Whitehall knows best."
Lord McNally, who has special responsibility for the crown dependencies, admitted Whitehall seemed to have a much more streamlined approach to processing Scottish legislation, something he has committed to look at on his return to the UK.
He confirmed there will be a more "direct relationship" between Isle of Man ministers and UK departments with direct responsibility.
"I would hope it isn't just a relationship which is used when there is a problem, but with regular meetings which allow us to anticipate and solve problems before they have begun."
Related Internet Links
The BBC is not responsible for the content of external sites.