Manx and traditional music at the Manannan festival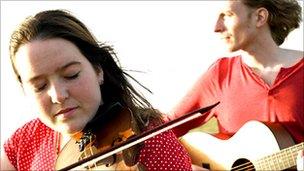 A variety of Manx and traditional music will feature at June's Manannan festival in Port Erin.
Award-winning Isle of Man band King Chiaullee appears in the line-up as does the English act, Horses Brawl.
The sessions will both be held at the Erin Arts centre in a festival which aims to bring together a wide range of music and events on 20 and 28 June.
The programme for the 2011 Yn Chruinnaght Inter-Celtic Festival has also been announced.
Irish-Breton supergroup Guidewires are set to join Scottish Gaelic songstress Maeve MacKinnon and Cornish dance group Kemysk.
Yn Chruinnaght will take place at various venues around the Isle of Man between 18 and 24 July 2011.
Related Internet Links
The BBC is not responsible for the content of external sites.