Isle of Man law to protect lobster stocks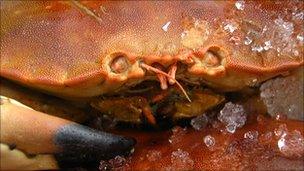 New fishing regulations around the Isle of Man will "protect lobster and crab stocks", according to the government.
Officials said regulations, which come into effect from September, mean lobster pots must have escape panels to allow undersized catch to escape.
All pots will also have to have official government tags to enable controls on over-fishing.
Environment minister John Shimmin said the new conservation measures affect a three-mile fishing zone.
"Whilst I am disappointed that I am currently unable to extend this bye-law to cover the whole of the Isle of Man Territorial Sea, these measures will nevertheless go some way to assisting the protection of our valuable crab and lobster stocks," he said.
The law will allow young fishermen to enter the fishery without need to purchase expensive quota or licences, he added.
The Isle of Man government has confirmed that plans are in progress to extend the law to the full 12-mile limit of Isle of Man waters.
Related Internet Links
The BBC is not responsible for the content of external sites.