'Unsettled weather' for TT week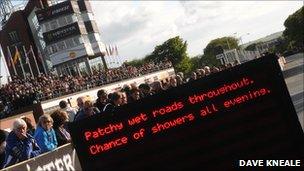 The weather will remain "unsettled" in the Isle of Man during the TT racing programme despite hopes for a mini-heatwave, according to the Met Office.
Although temperatures are set to rise over the weekend, the Atlantic winds will return from Monday.
This in tandem with outbreaks of rain will mean an unsettled period during the TT racing.
Forecaster Adrian Cowin said the higher temperatures this week would be short-lived.
He added: "Many parts of the British Isles have been seeing temperatures around 25 degrees but in the Isle of Man things are more complicated due to the low cloud, it will return to normal temperatures of around 15 degrees next week with some rain expected, so there could be some disruption to the racing schedule".
Related Internet Links
The BBC is not responsible for the content of external sites.