Isle of Man research space stations unveiled to public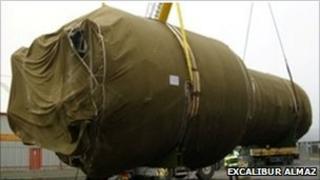 Two research space stations owned by Isle of Man company Excalibur Almaz (EA) are being opened to the public for the first time.
Each of the stations, being kept in an aircraft hanger at Jurby airfield, is 36ft (11m) long and 13ft (4m) in diameter.
The machines are similar to those used at the International Space Station and were imported from Russia.
Their possible future use for space tourism will be investigated by EA.
Moon trips
The firm's executive vice president Buckner Hightower said: "We will be evaluating them for modernisation and for future use as an orbital vehicle for space tourism."
The company plans to offer holidays in space and claims it could run possible trips around the moon and back by 2015.
In the meantime, the stations will be used for research and testing but they could eventually be sent into space.
Last year, the Isle of Man was named the fifth most likely nation to put the next person on the moon.
Only the United States, Russia, China and India were ranked ahead of the island in a report released by industry analyst Ascend.
Recent government figures indicate the income from the Manx space industry is now nearing the billion mark.
It is thought that the global space industry is currently worth about $300bn a year, the government said.
The public will be able to view the space stations in Jurby between 1000 and 1700 BST on Saturday.