Manx team set for Island Games on the Isle of Wight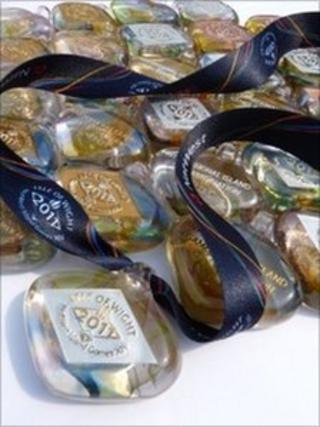 The Isle of Man will send one of its largest ever teams to the NatWest Island Games, which get under way in the Isle of Wight on Saturday.
The Games will see over 3,000 athletes and officials from over 24 islands around the world compete in 14 sports over six days.
The Manx team will be one of the largest at the Games with 190 competitors and 40 officials travelling to the 14th running of the multi-sport event, first held in 1985 on the Isle of Man.
The Isle of Man's team manager, Jill Gillings, said they had high hopes for success.
She said: "We've got such a depth of talent on this island and we feel that we will be able to compete for medals in every event we enter."
In Aland two years ago the Isle of Man finished second to the Faroe Islands in the medal table, winning 88 medals, 29 of which were gold.
The Manx team will compete in archery, athletics, badminton, basketball, cycling, football, golf, sailing, shooting, squash, swimming, table tennis and tennis.
The only sport the island will not compete in is volleyball.
Joint Isle of Man team manager Gary Jakeman said the Manx team would have its eyes set on finishing at the top of the medal table.
He said: "My hope is that all our athletes can perform to the best of their abilities. I know they have all been training very long and hard for the Games and we have the potential to win medals in all sports.
"The Games are labelled the 'friendly games', but we will be taking it very seriously. I expect to see a lot of top class performances from this team."
The Games will be officially opening by Lord Coe at a ceremony in Ryde.
The Isle of Man team will be led by archer Peter Mumford, who has been chosen to carry the Manx flag, and has represented the island in every Games since its inception in 1985.
"It will be with great pride that I carry our flag at the ceremony," he said.