Island Games: Look back at the Manx team's achievements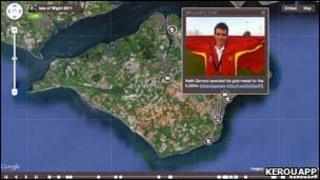 The Isle of Man team finished second to Guernsey in the Natwest Island Games medal table with 26 gold, 22 silver and 20 bronze medals.
BBC Isle of Man reporter Mark Edwards was at the event to share the achievements of the Manx team, as they competed against over 3,000 athletes from 24 islands around the world.
Throughout the week Mark was plotting a route around the Isle of Wight, to share as many key Manx performances as possible.
As the action unfolded, in addition to regular reports on each day's events, Mark was tweeting and posting audio slide shows, pictures and video in real time.
Look back at the action
His journey was recorded on this map, so you can see where the action was taking place on the Isle of Wight and get a real flavour of the Games.
All you have to do is click through the timeline at the bottom of the map to look back at the Isle of Man team's achievements.
The Manx team was one of the largest at the Games with 190 competitors and 40 officials travelling to take part in the event, which was first held in the Isle of Man in 1985.