Misadventure verdict for Grand Prix racing deaths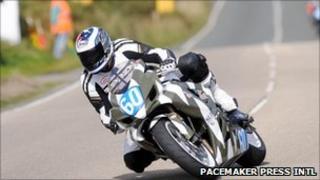 A verdict of death by misadventure has been returned at the inquests of two motorcycle racers who died at the 2010 Grand Prix.
Royal Navy Petty Officer Jamie Adam, 28, and Christopher Bradshaw, 39, died during the Junior race on 1 September
Mr Adam had previously served in Iraq and Afghanistan and Mr Bradshaw was a police sergeant with the UK police.
The inquest heard that Mr Adam came off his bike on the second lap of the course after hitting the kerb.
It happened near the Alpine section of the mountain course.
His bike then became air-bound, sending him into side of the road.
'Bad luck'
In what was described by a witness marshal as "sheer bad luck", Mr Adam's bike then careered into Mr Bradshaw's motorcycle causing him to crash also.
Mr Adam, from Prestwick, Ayrshire, was pronounced dead at the scene; Mr Bradshaw, from Staffordshire, was taken by air ambulance to Nobles Hospital where he later died.
The Manx coroner Alistair Montgomerie said it was clear both men had been extremely brave.
He added: "Jamie had been on two tours in both Iraq and Afghanistan and, during his time in the RAF, Chris had taken tours in Northern Ireland and as a policeman he chased armed robbers in an effort to protect the public.
"They were both professional and passionate racers and it is a tragedy they should lose their lives racing here in the Isle of Man."
Mr Bradshaw's partner, Dianna Rushton, also a police officer in the West Midlands force, had asked him to give up road racing in the Isle of Man as she felt it was too dangerous.
She said Mr Bradshaw had agreed but wanted to wait until he had competed in his first TT.
She added: "Chris was a big softie who was passionate about the police, racing and his family."
Mr Adam's mother Carol said: "Jamie was a wonderful son, brother and friend. He could talk the hind legs off a donkey and he loved us so much, as we did him."