Isle of Man police appeal for safe Parish walk event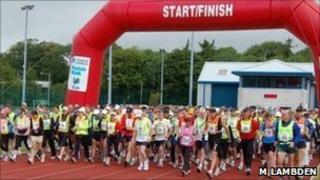 More than 1,000 walkers in the Isle of Man are expected to take to the roads this weekend for the Parish walk.
Police say the annual community event will be safer if motorists can avoid using the main roads.
The annual island event takes place on Saturday with participants covering 85 miles in under 24 hours.
The Parish walk starts at the National Sports centre at 0800 BST and entrants will make their way around all 17 of the the island parishes.
The road between Strang and Crosby will be closed between 0820 and 0930 to protect the walkers.
Insp Mark Britton said: "As the event extends into the dark hours of night motorists are reminded that they can expect to see pedestrians on the road in areas where they may not normally see pedestrians at that time.
"This is a growing event with a proud tradition and the Constabulary is proud to play a part in it, somewhere in the region of 1750 people are expected to take part this year."
More than 1,700 walkers signed up for the event in 2010.
This year's Scottish Widows Parish walk will mark the 50th anniversary of the modern version of the event, as the race was not held in 1965 or 1966.