Motorsport growth plan for Isle of Man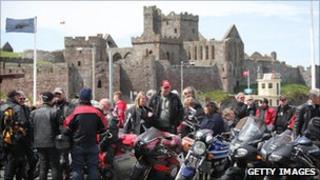 The Manx government hopes to further develop motorsport in the Isle of Man after the success of TT 2011.
Economic Minister Allan Bell said the Manx Grand Prix (MGP) is the next event to be targeted for a boost.
In 2009 the September event attracted about 9,000 visitors compared with about 38,000 for the TT this year.
Mr Bell said the Isle of Man government needs now to look at the broader strategy of developing the Isle of Man for motorsport in general.
He added: "The Isle of Man is the world centre for road racing and I think we can grow the industry quite considerably in the time ahead.
"Clearly there are times when people who want to come to the TT can't, so deflecting them towards the MGP as an alternative is a good way of giving them a motorcycling experience and boosting the tourist industry over a wider period".
The 2011 Manx Grand Prix takes place between 20 August and 2 September.