Isle of Man donation to Horn of Africa drought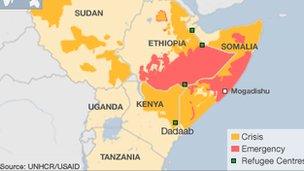 The Isle of Man overseas aid committee has donated £50,000 of emergency funding to Oxfam to help victims of the drought in the Horn of Africa.
Some parts of the area have been hit by the worst drought in 60 years, according to the UN.
More than 10 million people are thought to be affected across the region.
Minister Phil Gawne said: "I hope that this contribution, combined with the efforts of the international community, will make a real difference."
He added: "However I would urge everyone to support the recently announced appeal by the Disasters Emergency Committee."
The UK has pledged £38m ($61m) in food aid to drought-hit Ethiopia - enough to feed 1.3m people for three months.
Charity Save the Children says drought and war in Somalia has led to unprecedented numbers fleeing across the border into Kenya, with about 1,300 people arriving every day.
Three camps at Dadaab, just inside Kenya, are home to well over 350,000 people, but they were built to hold just 90,000 and are severely overcrowded.
Related Internet Links
The BBC is not responsible for the content of external sites.