Isle of Man government warns of uplands motorbike ban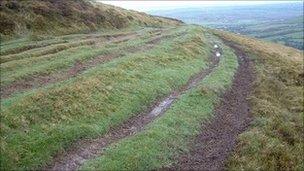 The Isle of Man government has issued a warning of a possible ban for motorbikes in the Manx countryside.
Environment minister John Shimmin said the ban could be brought in if bikers continue to damage fragile upland areas.
Thousands of riders visit every year to use the tracks because scrambling is banned in many parts of the UK.
Mr Shimmin added: "In the future we are not going to have the money available to do the repair work needed."
The Manx Government has spent £200,000 on repairing upland tracks over the last four years and has earmarked another £40,000 for work this year.
Environmentalists believe that once the heathland is damaged it could take hundreds of years to recover.
There are 117km of unsurfaced road on the island of which 24km are upland trails.
The most sensitive tracks are closed in the winter months but re-open in April.
Related Internet Links
The BBC is not responsible for the content of external sites.