Isle of Man hosts heritage transport festival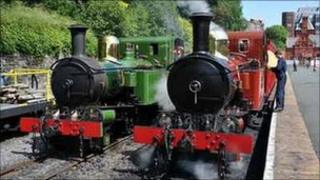 The Isle of Man's heritage railways are being celebrated in a five-day festival.
The Heritage Transport Festival will run on the railways from Wednesday until the following Sunday.
People will be able to travel in the newly restored tram car No.7, which dates back to 1894. The steam railway is hosting a Rail Ale Tour.
There will also be bus shuttles to the Manx Aviation Museum, Jurby Transport Museum and Milntown House among others.
The Manx Classic Car Club will also be displaying its collections at various stations.
David Cretney, minister for community, culture and leisure, said: "The Isle of Man has a wealth of heritage transport within a very small area that we know from experience attracts large numbers of both residents and visitors.
"This Heritage Transport Festival aims to pack in a variety of special events and experiences across all our railways in order to ensure the five days provide a variety of unique transport experiences for fans new and old."