Manx ferry passenger figures fall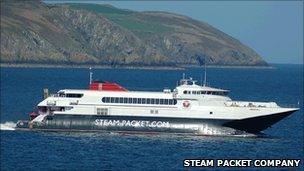 The number of passengers travelling through Douglas Harbour in July has fallen, figures show.
A total of 81,249 people used the harbour during July 2011 compared with 87,314 in the same month last year.
The 6.95% decrease in passenger numbers was accompanied by a 10.42% fall in vehicle numbers.
Member for harbours, David Callister said the drop in business was due to a combination of factors including ferry timetable changes.
It is thought the reduced frequency of Liverpool sailings and less day trip opportunities have all had an effect on bookings.
"I am sure the Steam Packet will be looking carefully at the figures to identify opportunities to generate more traffic and promote the low fares and offers that are currently available," said Mr Callister.
Passenger numbers on Isle of Man Steam Packet ferry services varied however, with a 7.2% increase on the Heysham route and a 12.5 decrease in passengers travelling to Liverpool.
Numbers of people travelling between the Isle of Man and Ireland (Belfast and Dublin) were also down.
Related Internet Links
The BBC is not responsible for the content of external sites.