Isle of Man politicians elect House of Keys speaker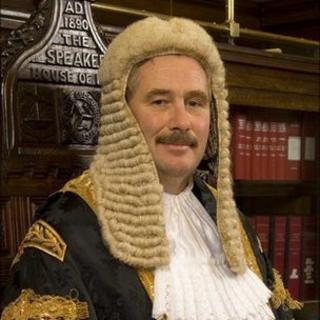 Manx politicians have unanimously elected Steve Rodan to continue as speaker for the House of Keys, a role he has held since 2006.
Rushen MHK Phil Gawne proposed Mr Rodan, and North Douglas MHK John Houghton seconded the proposal.
Mr Rodan won a landslide victory in the single-seat constituency of Garff in last week's general election on the Isle of Man.
The Laxey resident said he was "honoured" to be chosen for the role.
The speaker is the principal officer of the House of Keys, the lower house of the Isle of Man legislature.
All 24 MHKs were sworn in to the House of Keys in a ceremony on Tuesday.
The new chief minister will be elected by Tynwald on 11 October following Tony Brown's decision to retire from politics after 35 years in public service.
Mr Brown held the position of speaker of the House of Keys from 2001 and chief minister from 2006.