Top Gear stamps unveiled by the Isle of Man Post Office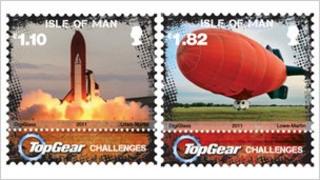 The Isle of Man Post Office is to release a series of stamps featuring vehicles created for challenges on the BBC2 television programme Top Gear.
The six-stamp release will feature some of the more unusual vehicles created by presenters Jeremy Clarkson, Richard Hammond and James May on the show.
The vehicles include a caravan airship, a two-storey Citroen caravan and a Robin Reliant space shuttle.
The stamps will be issued on 5 November.
Dot Tilbury, of the Philatelic Bureau, said: "Since 1904, the Isle of Man has been the home to motor racing, which continues to this day.
"This collection commemorates some of most innovative transport solutions created by Top Gear team."
In 2007, Clarkson, who has an house on the Isle of Man, featured the Peel-engineered P50 micro car for the show.
It involved the presenter driving the car through the corridors of the BBC's Television Centre in London.
Last year, the Top Gear presenter and his wife were ordered to allow ramblers access to a public rights of way outside their house in Langness.