Isle of Man chief minister names Council of Ministers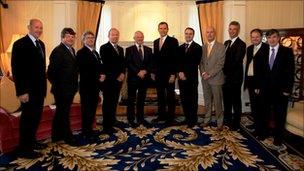 The Isle of Man's newly-elected chief minister Allan Bell MHK has announced his Council of Ministers.
The council, led by Mr Bell, will head up the Isle of Man government's nine departments for the next five years.
Liberal Vannin party leader Peter Karran MHK, who stood against Mr Bell for the chief minister position, will be minister for education and children.
John Shimmin MHK for Douglas West will take over economic development from Mr Bell.
Rushen MHK Juan Watterson, who won the most votes in September's general election, will take up his first ministerial role - in home affairs.
Peel MHK Tim Crookall and Douglas East MHK Chris Robertshaw will also take up their first ministerial roles. Mr Crookall will run community, culture and leisure, while Chris Robertshaw will take on the island's social care.
MHK for Rushen Phil Gawne will head up Environment, Food and Agriculture, Glenfaba MHK David Anderson will be in charge of Health and Douglas South MHK David Cretney will take on Infrastructure.
Ayre MHK Eddie Teare, who proposed Mr Bell for chief minister will run the Treasury, a position Mr Bell himself held for nine years.
The chief minister said: "The public expect a united and mature response from their politicians to the serious challenges facing our Island.
"As I have already made clear, I am taking an inclusive approach to the business of government so that we can all work together for the good of the Isle of Man and its people.
"I believe the composition of this new Council of Ministers reflects that approach - they are a team blending experience and fresh thinking that hopefully will be able to mesh well with the rest of their Tynwald colleagues," he added.
Related Internet Links
The BBC is not responsible for the content of external sites.