Isle of Man reviews cost of Manx Grand Prix event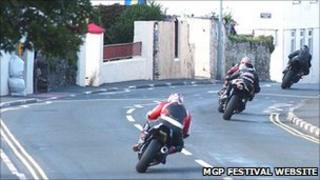 The Isle of Man government has announced a full review into the economic benefits of the Manx Grand Prix (MGP) motor sport festival.
The event, which was launched as the Manx Amateur Road Races 1923, was renamed as the MGP in 1930.
The festival is often seen as a stepping stone for riders aiming to qualify for the TT races in June.
The government review aims to clarify the cost and benefits of the MGP as well as event promotion.
A spokesperson from the department of economic development said the festival requires significant government funding and costs are increasing every year.
Chief Executive at the department of economic development, Colin Kniveton added: "It is the Department's policy to ensure that all Government funded events are producing a reasonable return on the taxpayer's money invested in them, particularly at this time of increasing pressure on spending on public services.
"However, this is not just about reviewing costs but also ensuring that we maximise the potential of any event that the Island hosts, in terms of generating visitors, obtaining media coverage and stand-alone revenue as well as safe-guarding its long-term viability".