Isle of Man roads open after wind disruption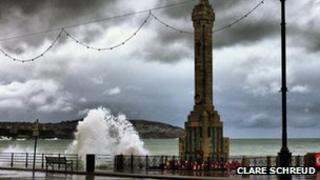 Roads on the Isle of Man have re-opened after the strong winds caused some travel disruption.
The Mountain road from the Ramsey Hairpin to Creg ny Baa, was opened after midnight.
Police said the area had to be closed because of "the potential danger to motorists by high winds."
The A2 coast road at the Port Cornaa junction has also been reopened after a tree fell on to the road in the early hours.
Sailings to the United kingdom have also resumed, although the Steam Packet Company said there was the possibility of delays throughout Friday.
The morning sailing from the island has been delayed until 10:00 GMT, as is the return journey which is expected to leave Heysham at 15:30 GMT.
All flights to and from the Isle of Man are currently operating as normal.
The Isle of Man met office said: "As winds fall this evening a widespread frost will develop."
Temperatures are expected to fall to about zero on Friday night.