Isle of Man police warn of hefty fines for fly-tipping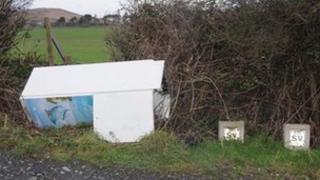 Police in the Isle of Man issue a warning to fly-tippers about the prospect of high court fines.
The caution comes after a large fridge freezer was found dumped in the Manx countryside.
The appliance, which has a distinctive image of dolphins on the front, was left near Knockaloe Farm in Patrick sometime between 9 and 12 December.
PC Ian Scott said anyone prosecuted for fly-tipping on the island can expect to receive a fine of up to £2,500.
He added: "If someone is prosecuted for this type of offence they can also expect to be ordered to remove their waste from wherever it was dumped.
"Sadly fly-tipping is most common in the more remote parts of the island which tend to be beauty spots, we are warning people to think twice and find legal ways to dispose of their waste".