Manx Grand Prix: Online survey launched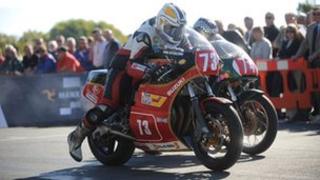 A survey looking at the costs, benefits and future potential of the Manx Grand Prix has been launched as part of a wide-ranging consultative review.
It is hoped the online survey will help to evaluate the spectator experience at the annual motorsport event.
The Isle of Man government announced the review in December 2011.
The event was launched as the Manx Amateur Road Races in 1923 and was renamed as the MGP in 1930.
Trevor Hussey, head of motorsport at the Department of Economic Development, said: "We are looking for feedback from anyone who may have a valid point of view based on their previous experiences around the event."
The questionnaire is available on the Manx Grand Prix website and invites feedback on all aspects of the festival which includes the Manx Grand Prix Races, Two-Day Trial and the Vintage Motor Cycle Club Festival.
The full review is expected to be completed by April 2012.
The Department of Economic Development is also evaluating the return on investment that the festival currently generates for the island and is assessing its potential to grow.
It is anticipated that this will be completed and released in the first week in February.
The 2012 MGP will be held between 18 August and 2 September.