Isle of Man cruise numbers show 'upward trend'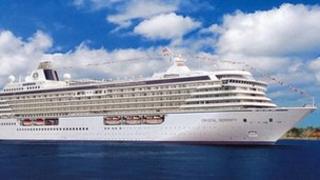 The Isle of Man is set to see an increase in the number of cruise liners calling at the island in 2012.
A spokesman for the tourism department said there were already 14 cruise ships scheduled to visit in 2012 - an increase on 2011 bookings.
The Department of Economic Development (DED) estimates 6,000 people will visit the island on the cruises.
DED Chief Executive Officer Colin Kniveton says the figures show a "positive upward trend".
In 2011, eight ships brought 4,700 visitors to the island with four cancelled due to bad weather.
Treasury figures calculated the visitors generated £250,000 for the Manx economy.
Mr Kniveton said: "Forward bookings of scheduled cruise calls in 2012 and 2013 have revealed a promising and healthy upward trend.
"It is certainly a confidence boost for the island's economy that so many cruise operators are considering the Isle of Man and we will continue to attract new visitors to help raise our profile as a successful cruise destination."
The DED says that nine cruise ships are already confirmed to visit the island in 2013.