Peel Road press closes as printing moves to Sheffield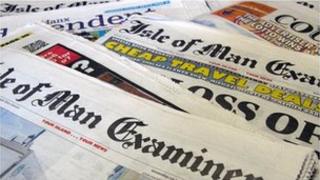 Isle of Man Newspapers will close its Peel Road press on Thursday and move printing to the UK, with the loss of seven staff jobs and some casual posts.
Printing of the company's three newspapers will start at the Johnston Press site in Sheffield from Monday.
Editor Richard Butt said: "The company must respond to market demand for improved products."
The Examiner, the Manx Independent and the Courier have all been printed in Douglas for the last 19 years.
Content will continue to be produced by staff in the island and emailed to Dinnington.
'Too expensive'
Mr Butt said the move would "improve the quality of the publications".
"The current press produces a maximum of 48 pages at a time meaning papers have to be printed in sections and put together by hand," he said.
"The Dinnington press is capable of printing 192 pages in full colour which will help with advertising.
"Advertising in the newspaper industry has suffered a severe downturn throughout the western world because of the recession and the rise of the internet.
"Isle of Man Newspapers has fared far better than most in that regard."
The newspaper group said it looked into the cost of buying a new press to keep printing in the Isle of Man but it was too expensive considering it would only be used three times a week.
Seven full-time posts are being made redundant by the move but the company will still employ 53 people in the Isle of Man after the closure of the press. The number of casual posts lost has not been revealed.
The printed newspapers will be transported to the island by ferry, along with the UK national newspapers. If the boat does not sail, the papers will be flown to the island.