Manx government aims to resolve Tesco abattoir dispute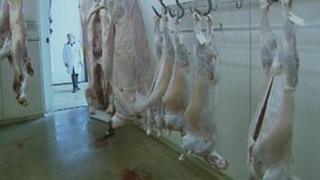 The Manx government has stepped in to resolve a dispute after the island's abattoir "fell short" of supermarket standards.
Tesco, one of the abattoir's biggest clients, recently removed all Manx meat produce from its shelves following a routine inspection.
Agriculture minister Phil Gawne said he had discussed the processing of meat at the abattoir with the supermarket.
Tesco said the decision was taken to "maintain food safety standards".
Mr Gawne added: "99% of the issues raised by Tesco have been resolved."
He added: "The island's meat plant is fairly unique in that it processes many types of meat, including beef, pork and lamb.
"Tesco needs to understand and accommodate those differences and work with us to allow the meat plant to continue to supply the store."
'New machinery'
Chief Executive of the Isle of Man abattoir John Dawkins said if Tesco pulled out they would have to find alternatives.
Mr Dawkins said: "We are endeavouring to sort the issues with Tesco out, a lot of them are very small.
"We have purchased new machinery which was one of the requirements, the ones we had were out of date, as soon as we are ready we will request Tesco to come back and reinstate us."
A Tesco spokesman said: "Maintaining high food safety standards is extremely important to Tesco - our customers expect nothing less.
"We conduct regular checks on our food suppliers and if they fall short on safety standards we stop selling their products and support their efforts to improve.
"We make a final decision about selling their products based on whether they can ultimately meet our high standards."