Sotheby's sell watchmaker Dr George Daniels' collection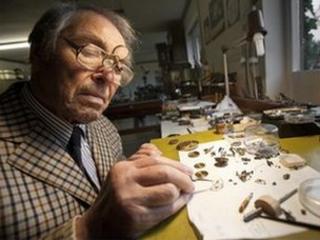 An Isle of Man watchmaker's private collection of watches and clocks is to be auctioned by Sotheby's in November.
The items were assembled over a 50-year period by the Edgware-born watchmaker Dr George Daniels, who died in 2011.
In an illustrious career spanning more than 60 years he has been credited with some of the most important advancements in his field.
His private collection included 130 lots and is expected to raise more than £5 million for his Educational Trust.
The trust helps students seeking higher education in the fields of horology, engineering, medicine, building or construction.
Director of Sotheby's clock department, Jonathan Hills, said it was an "extraordinarily exciting collection".
'Like a god'
He said: "In horological circles he is a revered all over the world. He is like a god to some people.
"We are expecting interest from the four corners of the world."
The most successful of his inventions, the co-axical escapement, won him international acclaim and is regarded as one of the most significant horological developments in 250 years.
The head of Sotheby's International Watch Division, Daryn Schnipper, said: "George Daniels heralded a new chapter of mechanical watchmaking.
"He fuelled the energies of a new generation such as his disciples Roger Smith and Stephen Forsey of Greubel Forsey."
'Wonderful legacy'
Roger Smith moved to the Isle of Man from Greater Manchester in 1998 to work with Mr Daniels, who he describes as the "greatest horologist of all time".
He said: "George devoted his life to the improvement of the mechanical timekeeper. Each piece was added to the collection because of its unique horological interest and includes pieces which come with great historical importance."
Mr Smith continued: "George would have been delighted knowing that they will be going to new owners who will continue to enjoy them just as he did."
The collection will range from a cuckoo clock with an estimated value of a few hundred pounds to a clock made by Joseph Knibb in 1677, which carries an estimated price of close to £1m.
It will also include the Daniels Space Watch, designed to commemorate the first moon landing.
Dr Daniels created 37 watches over a 60-year career. Each watch was created from scratch by hand and from raw materials, a task which includes mastering more than 30 separate skills. The collection will be auctioned in London on 6 November.