Isle of Man TT 2012: Final call for TT homestay scheme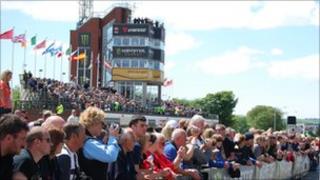 The Isle of Man government is making its final appeal for residents to open their homes to TT fans in June.
The tourism department expects a rise in visitor numbers after the release of the TT3D film Closer to the Edge.
In 2011, more than 700 homeowners on the island let rooms to TT tourists, with 2,858 beds being taken up during June's race week.
The island's registered accommodation is already full for the 2012 races, Isle of Man Tourism said.
A Tourism spokesman said: "We would like to hear from anyone who may have a spare room available and can offer guests accommodation on a bed and breakfast basis, or would consider rental of your entire property."
The registration fee is £15.00 and householders are exempt from tax on up to £1,500 of earnings from paying visitors.
Homestay can be offered during the TT for any number of nights between 26 May and 10 June and for the Manx Grand Prix between 18 August and 2 September.
All homes must be inspected by department officers before being registered for the scheme and the closing date for applications is 30 April.
The Isle of Man government has also approved plans for a portable hotel, with the potential for 520 beds in Noble's Park, to help meet the demand for accommodation during TT week.