Manx artist Sarah Hendy chosen for year-long residency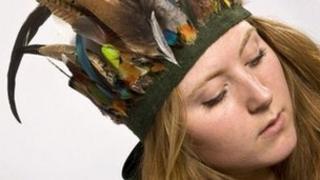 Manx artist Sarah Hendy has been appointed as the new resident artist at the Sayle gallery in Douglas.
Ms Hendy, who creates 'wearable sculpture', was selected ahead of six other artists and will begin her year-long residency on 1 April.
She said she was "thrilled to embark on a new adventure."
During the year she will make her art publicly in the gallery, host workshops, and hold a public exhibition of her work in 2013.
Ms Hendy continued: "Although I have enjoyed working in my own studio, I miss the interaction with other artists and art lovers which actually inspires and influences my creations. This residency will undoubtedly influence my work."
The last resident, Hazel Walsh, used her year to explore the beauty that can be found in decaying and abandoned houses on the island.