Isle of Man resident to receive Maundy alms from the Queen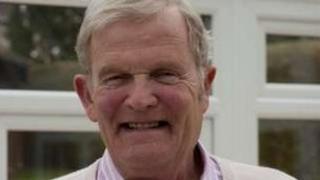 An Isle of Man resident will receive Maundy money from the Queen in Her Majesty's Diamond Jubilee year.
Jim Noakes, ex-chief of the Financial Supervision Commission, will be recognised for services to the island.
A spokesman from the Diocese of Sodor and Mann said Mr Noakes had been a leader of a church service in Governors Hill for 15 years.
The service is due to take place at York Minster on Maundy Thursday, which falls on 5 April.
Mr Noakes said: "I am obviously highly delighted as well as surprised. It must be a tribute to the people who worship each Sunday at the Cat with no Tail on Governors Hill and also to my wife Judy, who has been an inspiration to them and to me."
Forty other Manx residents received Maundy money from the Queen in 2011 at Westminster Abbey.
Each year the Queen chooses a different church to distribute the coins, known as Maundy money.
From 1699, the Maundy money was distributed by a royal representative but it has been customary since the 1930s for the reigning monarch to distribute the coins.