Cyclist Mark Cavendish becomes a father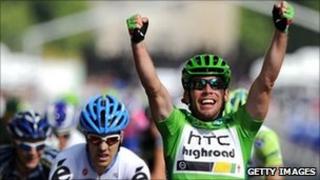 Isle of Man cycling star Mark Cavendish has become a father for the first time.
He announced on Twitter this morning that Delilah Grace Cavendish had been born and that his partner Peta Todd was doing well.
Hetweeted: "Delilah Grace Cavendish was born a couple of hours ago. She & @petatodd are doing very well. So proud of my girls! Happiest day of my life."
In 2011, Cavendish, from Douglas, became the World Road Race Champion.
He was the first British male champion for 46 years. He also became Britain's first ever winner of the sprinter's green jersey at the Tour de France.
'More ambitious'
Last week he was crowned the Isle of Man's sportsman of the year for 2011, adding the title to the BBC Sports Personality of the Year he was awarded in December.
Speaking to the BBC at the ceremony, he said: "I want to do my best to provide my daughter with the best life she can possibly have.
"If anything becoming a father will make me more ambitious. I am not thinking about myself anymore I am thinking about my family."
During the ceremony in Douglas, Cavendish announced a new scholarship to help Manx sportsmen and women.