Summer report highlights future of Manx wind farms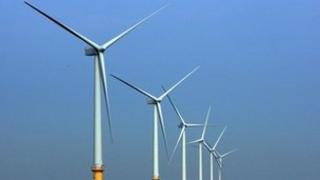 The future of wind farm development around the Isle of Man is to be decided in a report published this summer.
Officials said the Marine Plan will identify development opportunities while protecting current activities.
The report comes amid fears Irish Sea turbines could hamper ferry sailings and the Manx fishing industry.
Director of Environment Martin Hall said the report will consider a range of factors to find the right place for offshore wind farm development.
He added: "Mapping the location of navigation corridors, important natural areas and pipelines will enable us to identify potential wind farm sites that will not adversely affect current uses of the Manx marine environment including ferry routes and fishing activities."
The Scottish Government has recently granted consent for a 127-turbine wind farm to be constructed in Shetland.
Environment minister Phil Gawne said if the Isle of Man could follow suit, there would be enormous economic benefits.
"This wind farm in Shetland, if mirrored here, would half our current deficit and realise other economic benefits including service industry jobs," he continued.
"While I know there is some scepticism among the Manx public about wind farms, the Shetland Viking project demonstrates the considerable economic value that can be generated for small island economies from such projects."