Isle of Man honours war plane crash victims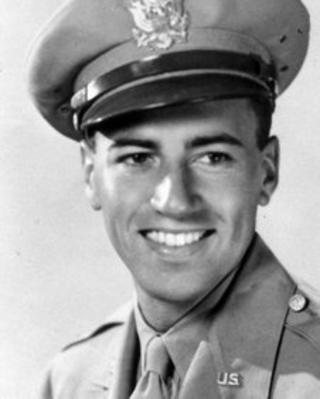 A memorial has been held to honour 11 US military personnel who died when their plane crashed in a Manx field at the end of World War II.
Lt Robert Vielle, an experienced and decorated pilot, had been flying a B-17G from England to Northern Ireland when he hit bad weather over the Irish Sea on 14 April 1945.
The aircraft veered off-course by several miles and instead of passing the Calf of Man on the right hand-side, it struck the ground near the Glen Chass in Rushen, bursting into flames and killing all 11 people on board.
Joie Vielle-Felts, the sister of the plane's pilot, travelled from the US to attend the Isle of Man memorial as she said she welcomed the chance to remember the life of her brother.
'Devastating thing'
"I was 17 when I heard of his death," she said.
"It was a devastating thing because we were expecting him home any day. He had been married two months prior to his leaving to go overseas.
"I have already visited the site of the plane crash and I was able to pick up some of the debris... there were still bits of the plane scattered in the grass.
"I looked out to the ocean and imagined the plane coming in and then going through the wall - amazing."
Lt Vielle's niece, Ann Vielle Lydon, also attended the memorial on Saturday organised by Rushen Parish Commissioner with support from the Manx Aviation and Military Museum.
Although she never met her uncle Mrs Lydon said he was still a big part of her childhood.
"I grew up seeing Uncle Robert's photograph on my father's bureau... I heard lots of stories about Uncle Robert who crashed in a plane on the Isle of Man, so I was always intrigued by the place," she said.
'Plane debris'
On a trip to Ireland in 1998 Mrs Lydon took the opportunity to go to the Isle of Man and visit the field where her uncle died.
"I was hoping to find something personal that belonged to him but instead I found two bags full of plane debris, it was just amazing, I still have it at home," she said.
"There are even some seat-belt buckles, a bit melted and corroded but they actually held those people in the plane, all those years ago."
The memorial is largely the result of an enormous amount of research and dedication from relatives and historians all over the world.
The work has uncovered many moving stories about those who died in the crash and the information has been collated on a website established by Ms Vielle Lydon's husband, Sandy, who is also a history professor.
"For a number of years we have worked to get a full picture of each of the people who died that day," he said.
"We have interviewed relatives, spoken to colleagues and developed a fascinating picture of everyone who was on board that plane, that's why the memorial is so important - it's gives us the chance to remember everyone."