Risso's dolphins spotted in Manx waters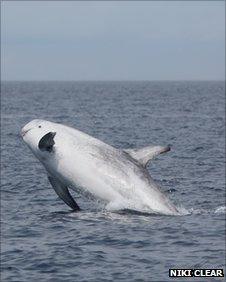 A pod of 10 adult Risso's dolphins have been spotted off the south coast of the Isle of Man, according to the Manx Whale and Dolphin Watch.
The rare dolphins were sighted about 500m (0.3 miles) from the Sound at 13:40 BST and stayed for about 20 minutes before moving on.
Tom Felce, from the group, said: "It is always incredibly exciting to see these creatures and they gave us a show."
The dolphins diet includes octopus, squid and fish.
Conservationists have been recording the number of sightings since 2006 to better understand their habits and behaviour.
Mr Felce said: "We have recorded the sightings in Manx waters every year since the group was established.
"We had 70 to 80 sightings in the first couple of years but that has slowly fallen to around 20 last year. It could be down to a number of factors including food and weather."
Any sightings of Risso's dolphins or good photographs should be reported to the group as it aims to provide a detailed picture of dolphin, whale and porpoise numbers in Manx waters.
Mr Felce also confirmed they had received five sightings of porpoises off the south coast of the Isle of Man in recent weeks and that four adult basking sharks were sighted in Castletown Bay last month.
Related Internet Links
The BBC is not responsible for the content of external sites.