Isle of Man artist Liana Rosa part of London exhibition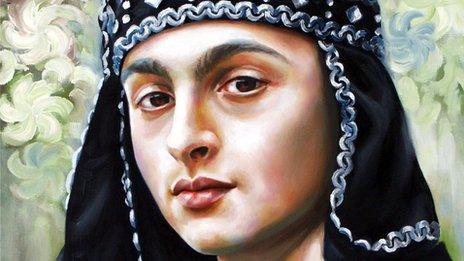 A self-taught artist from the Isle of Man is to have her work displayed in a prestigious London exhibition featuring some of Britain's best female artists.
Liana Rosa's Youth From The Caucasus was chosen from hundreds by the Society of Women Artists (SWA).
Her work will appear at the Mall Galleries between 28 June and 7 July.
Mrs Rosa, who started painting three years ago, said the news had given her the confirmation she needed that her work was moving in the right direction.
She said: "This painting was inspired by my cousin who lives in Georgia. When I saw his renaissance beauty and his unusual calmness, I was inspired to paint him so I asked him to pose for me in the traditional Georgian head dress.
"Ever since I was a small girl I have always done drawings, sketches and small watercolour paintings but I never took it seriously and certainly never considered it as a profession. Now I can dream of an exciting and interesting future in the art world.
The SWA, founded in 1855, showcases the work of some of the finest contemporary female artists from all over the world.
Present and past society members include painters Daphne Todd and Dame Laura Knight.
SWA President, Sue Jelley, said the selection process for the annual exhibition was extremely competitive.
"Open exhibitions attract a much higher number of submissions than are possible to exhibit and as the SWA shows at the prestigious Mall Galleries in London it is quite an achievement to be accepted."
The accolade is perhaps even more remarkable considering Mrs Rosa, who also a full-time mother, has never had any formal art training.
Her first steps into the world of portrait painting came three years ago as a result of some shocking news which compelled her to reach for the brush.
"I used to work as an air hostess and one of my passengers, a beautiful and famous model, committed suicide - it was so sad and so unexpected.
"I wanted to paint her using oils for the first time, and as I worked I felt a huge power coming out of my heart - it was very emotional. From that point on, I started to get some commissions and that was the beginning."
With the excitement of the exhibition on the horizon, Mrs Rosa remains inspired and ambitious about her future.
"I dream that I will have a very successful life within the art world and that I will produce all the paintings that I desire to produce," she said.
"I am hoping that I will continue to have the freedom to paint and change not only my life but the lives of others. I hope my work will last in people's hearts and minds - this is my dream."
Related Internet Links
The BBC is not responsible for the content of external sites.